Kattevennen is one of the six gateways to the  National Park Hoge Kempen, with macrocosmos as its natural theme. Besides a visit to the Cosmodrome, offering spectacular 360° shows, you can cycle, walk or play minigolf in the park.
In the immediate vicinity you can find a nice playground for children.
Just relax and enjoy the nature of the National Park Hoge Kempen.
Sport.Vlaanderen offers many other sporting facilities on het domain.
1 ticket = 3 experiences
The exposition "Big Bang" takes you to the absolute beginning of cosmos, and sets you on a time-travelling journey from the Big Bang until the present.
There are several 360° shows on display, and you will get a view of the starry sky of that evening.
The third experience is a visit to the observatory where you can use a super long telescope for exploring the celestial bodies.
A very nice family walk (4.2 km) takes you along several figures made out of wood.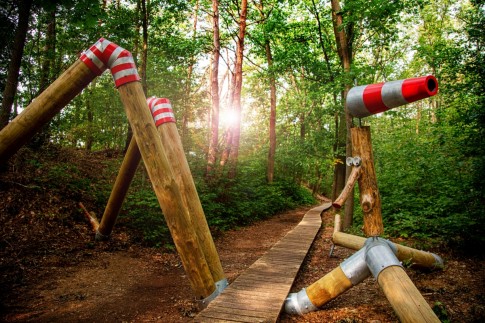 Cycle route network, Horse trail network
In the green hart of Limburg and on the edge of the first National Park of Flanders, the gateway Kattevennen is the ideal location for cycling. You can find several cycle routes on the domain itself, but you can also easily connect to the well-known Limburg cycle route network. These cycle routes and horse trails lead you to the most stunning spots of the National Park.
One of the oldest equestrian clubs in the province has it's home base in the manege of Kattevenia. You can watch the riders while having a snack and a drink in the tavern.
The domain Kattevennen offers many opportunities and activities for young and old. It's also perfect place for team buildings.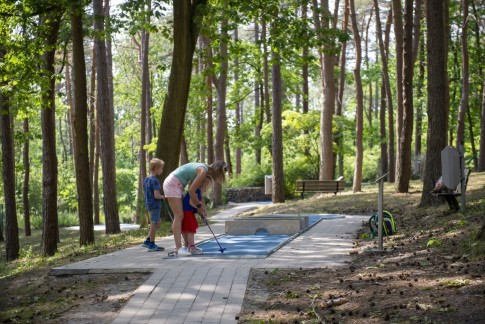 On the domain you can practise your skills on the minigolf court. The 18 different holes bring fun and laughter. Open from April to September.
Get inspired by the Open-air museum with its historical houses and craftmanship, the new town and The Sixties area.
A special recommodation and listed by Time Magazine as one of the world's greatest places to visit : Cycling through water.
The barefoot path in Zutendaal (Lietenberg) offers a unique experience. Never walked on your bare feet in nature? Go back to basics and discover fow it feels for 3km long.
Get your adrenaline pumping ! Enjoy karting in a fit and safe way .
Genk has one of the nicest tracks. World champions come here to practice.
https://www.kartinggenk.be/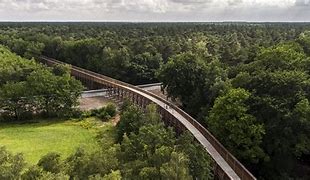 Cycle over a 300 meter monumental bridge to have a spectacular view of the heather fields.
"Adventure Awaits, Go find it."
Twinstone Lodge
Kattevennen
3600 Genk
Belgium
Twinstone Lodge – Kattevennen – 3600 Genk – Belgium
Follow the signs 'Kattevennen' at the crossing on the Oosterring near the hospital site 'Ziekenhuis Oost-Limburg (ZOL)'. On the domain follow the signs 'Twinstone Lodge'
For more information, contact us by e-mail info@twinstone.be or contact us by telephone on het number  +32 475 813 678.
"the perfect place to be, is exactly where you are right now"